CONTROL AND MONITOR YOUR FUEL SPEND
The NexTraq fuel management solution helps you track, monitor, and analyze your fuel consumption with simplified reports and alerts.
That means you can improve efficiencies, reduce fuel waste, hold drivers accountable for fuel purchases—and save money.
844-986-1125
STOP UNAUTHORIZED PURCHASES.
SAVE ON FUEL.
It's time for a more efficient way to manage your business. Get the best GPS fuel management tools you need to help reduce fuel spending and improve profitability.
REDUCE YOUR FUEL SPEND
Cut down on unnecessary fuel costs by identifying excessive idle time and unauthorized fuel spending.
SIMPLIFY FUEL CARD INTEGRATION
NexTraq offers a comprehensive fuel card integration and fuel management solution you can rely on.
HOLD YOUR DRIVERS ACCOUNTABLE
Know what your drivers are using your fuel card for to help detect and reduce fuel card fraud.
ENHANCE PERFORMANCE
Bolster your fleet's performance by enabling your drivers to easily notify you of fuel and vehicle issues.
NexTraq may use the information you provide on this form to send to you messages regarding products, services, and promotional offers. See NexTraq's Privacy Statement.
REDUCE YOUR FUEL SPEND
HELP STOP EXCESSIVE IDLING
Control your fuel spend by cutting down on unnecessary idle time and optimizing your fleet's time on the job.

WORKS WITH MOST MAJOR FUEL CARDS
We partner with the top fleet fuel card services in North America and Canada including Fuelman (Fleetcor®), Comdata, and WEX. In fact, NexTraq can integrate more than 24 different fuel cards. That covers virtually every fuel card on the market today.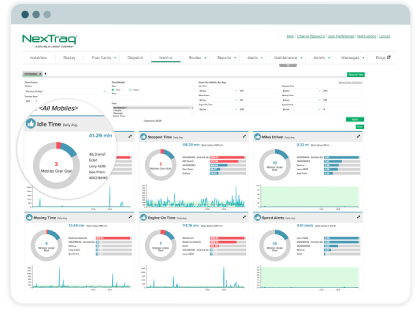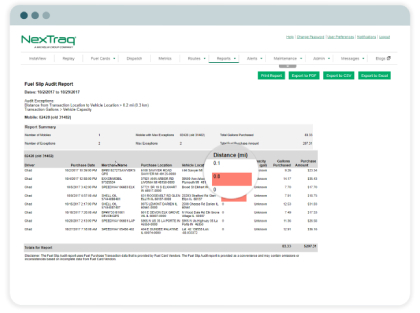 HOLD YOUR DRIVERS ACCOUNTABLE
Help Control Fraud
Assign a fuel card to a vehicle to track a driver's purchases, time, and location. Know where and when your drivers used your fuel cards—plus what they bought and how much they spent.
Validate Fuel Purchases
Match vehicle GPS locations to where and when drivers fuel up.
IMPROVE FUEL EFFICIENCY
Know How Much You Spend on Fuel
View transaction records detailing authorized—and unauthorized—purchases with NexTraq Fuel Purchase History reports. This comprehensive report shows fuel and fuel-related purchases by company, fleet, driver, or vehicle.
Efficiently Track Your Fuel Economy
Compare your expected MPGs and fuel costs with what actually happens on the road. NexTraq offers fuel efficiency reports that enable you to visualize the average fuel economy for your fleet based on miles per gallons driven and the expected distance for a job. If it doesn't match up, you'll know.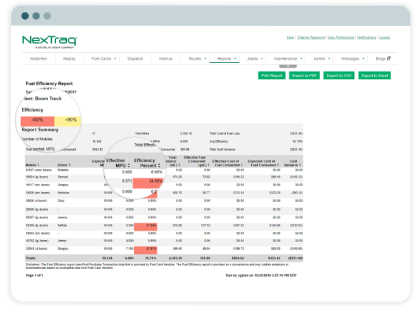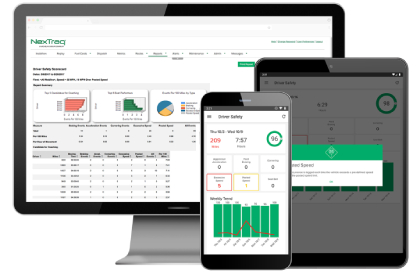 ENHANCE PERFORMANCE
Alerts Sent Automatically to Your Inbox
What's happening with your fuel spending? With NexTraq fuel management, you'll get all your alerts and reports delivered straight to your inbox.
Send Drivers to the Closest Fueling Locations
Track your drivers and identify the closest gas station and truck stops. With the NexTraq Geofencing and Mapping feature, you'll be able to easily direct drivers to the closest fueling location allowing you to save time—and money.
Safer Drivers Save Money
NexTraq provides a host of tools to help improve driving behavior. Once employees stop speeding and flooring it at green lights, you'll save more money at the pump.
A TRUE PARTNER
Outstanding customer support.
From certified installation, an individualized onboarding program, comprehensive training and expert customer support—NexTraq stands behind our services.

We are a trusted partner throughout the entire relationship.
CUSTOMER TESTIMONIALS
NexTraq provides outstanding service and world-class support.
But don't take our word for it. Hear what our customers have to say.
SAVE MONEY. GET MORE DONE. MAKE YOUR JOB EASIER.
We're ready to help you and your business. Click LET'S TALK below to schedule your FREE, personalized consultation.