Training drivers to be safe is one thing. What they do when they're on the road is another.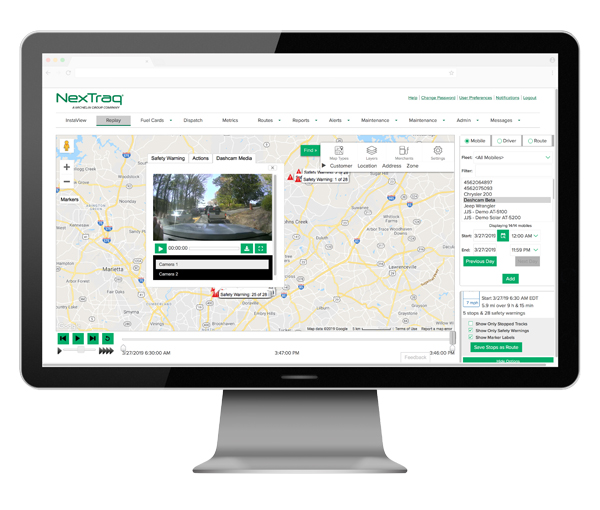 When it comes to your business, putting safety first begins when your drivers get behind the wheel of your company vehicles.
NexTraq understands driver safety begins with accountability. That's why we provide the dashcams, real-time alerts, reporting, and comprehensive online driver training courses you need to help improve your how your employees perform behind the wheel.
And now with the addition of MICHELIN® Fleet Safety Solutions, NexTraq customers have access to a world-class safety management program to help create a culture of driver safety for your fleet.
Take driver safety and accountability to the next level. Get the HD video with GPS location you need to incentivize good driving behavior, know when coaching is needed, and help protect your business from false claims:
HD video with wide-angle lens
Optional second camera for in-cab view
9 infrared LEDs for night-time recording
Real-time incident alerts with video and GPS location via email
Downloadable incident videos transmitted via 4G LTE connectivity
A one-second in-vehicle alert gives your drivers a helpful reminder when they're not following your rules of the road—plus you'll get an email or text message in real-time so you can stay on top of what's going on with your vehicles:
Harsh accelerating
Hard braking
Aggressive cornering
Get a comprehensive look at how your team is driving. Many NexTraq customers use these reports to reward safe drivers—and are alerted to coach those who need a little help. Grading criteria includes:
Speeding
Cornering
Accelerating
Braking
Once you've identified drivers who need help, you can enroll them in one of NexTraq's 44 online driver safety training courses:
Distracted Driving
Defensive Driving
Towing Trailers
And more …
MICHELIN® Fleet Safety Solutions
Working with MICHELIN Fleet Safety Solutions, you can count on a dedicated team to promote a culture of safety for your fleet using metrics to confirm the effectiveness of the program:
Driver engagement
Fleet coaching
MVR monitoring
Safety policy
See why fleet managers and safety compliance officers trust NexTraq to help them keep their drivers aware, safer, more accountable—and well trained.
Contact us today to see how we can help you improve driver safety for your fleet.