Get ELD compliant with NexTraq Elogs.
With the Electronic Logging Devices (ELD) mandate now in full effect, safety and compliance are vital to your business—now more than ever before. NexTraq® Elogs provides an integrated driver monitoring system to help businesses easily manage driver hours and inspections for FMCSA compliance with the ELD mandate.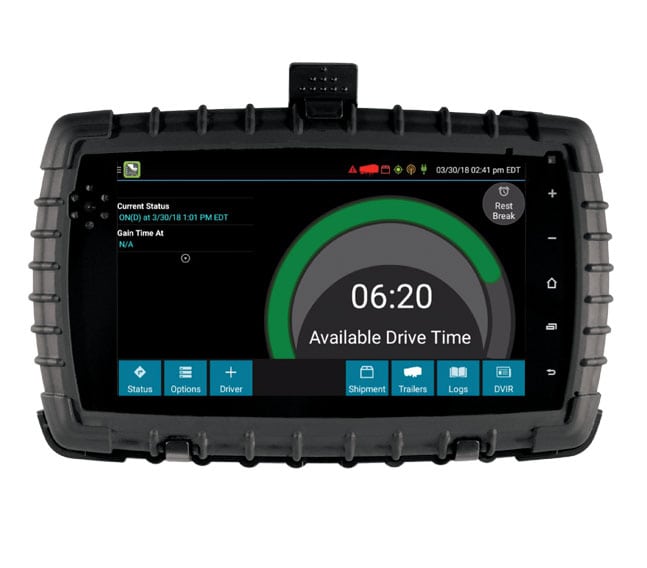 With this automated solution, drivers no longer have to manually record their hours and keep track of paper logs, helping them save time so they can be more productive.
Keep data secure with an in-cab, ruggedized tablet solution
Record inspection data easily with integrated electronic driver vehicle inspection data (DVIR)
Collect movement, speed, and odometer readings and more from the engine control module (ECM)


Benefits of NexTraq Elogs
Meets federal ELD mandate requirements
Eliminates paper logs and streamlines compliance
Tracks driver hours of service (HOS), record of duty status (RODS), and DVIR accurately
Dedicated ELD helps prevent distractions
The NexTraq Elogs tablet can only be used as an ELD. This helps prevent driver distraction and lost productivity due to unauthorized use of company-issued tablets. Real-time visual graphics notify drivers of remaining drive time with audio alert notification.

Hardwired for reliable, tamper-proof performance
NexTraq Elogs is hardwired to your vehicle. That means it's reliable while also preventing tampering by malicious users. NexTraq Elogs is also fully-integrated with the award-winning NexTraq Fleet Management Solution.
Integrated HOS portal with the NexTraq web application to manage all fleet operations from one screen
Controlled fuel spending with free fuel-card integration and comprehensive fuel management solution
Enhanced visibility of real-time location of mobile workers and improved productivity
"ELD compliance is an immediate need for us. I need a company that provides the training and support to get my office folks and drivers up to speed—quickly."