Utilize advanced technology to enhance your fleet tracking system.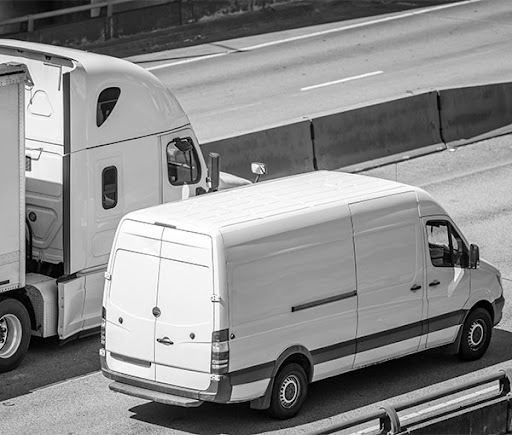 NexTraq provides the best fleet tracking solutions so you can get a comprehensive view of your entire fleet.
You can drill down to the diagnostics and monitor the performance of each vehicle to ensure it is operating at maximum efficiency. Optimize routing based on real-time driving conditions to reduce fuel consumption. And let your customers know your drivers' ETA so your business can deliver first-class services.
But what if you could have eyes inside the vehicle and see what your drivers see?
Imagine the difference it would make to have the power to view road conditions and monitor driver behavior without leaving your desk — or even from your smartphone.
NexTraq®—a MICHELIN® group company—brings you its best fleet tracking solution. With NexTraq Fleet Defender, you can improve driver safety and enhance the performance of your fleet operations.
Promote Driver Safety with Intelligent AI-Powered Cameras
According to the National Highway Traffic Safety Administration statistics, in 2019 over 3,100 people were killed and close to 424,000 people were injured in crashes involving distracted drivers in the United States[1]. That is why any effort to reduce distracted driving has the potential to save lives.
NexTraq Fleet Defender utilizes next-generation technology powered by machine vision and artificial intelligence (MV+AI) to help detect unsafe driving behavior.
NexTraq Fleet Defender uses advanced algorithms to determine when drivers are engaging in distracted driving, including using their smartphones, eating, drinking, smoking, or not wearing their seatbelts. When these behaviors are detected, two in-cabin alerts are triggered to encourage drivers to cease these activities and refocus their attention on the road.
Dual driver- and road-facing cameras capture high-definition footage, which is analyzed by AI in real-time to detect unsafe driving behavior. A live view is then fed into the NexTraq Web Portal, so you get a complete picture of what is happening.
Use this information to coach your drivers on safer practices. By installing NexTraq Fleet Defender, the best fleet tracking solution, you can enhance driver safety.
NexTraq Fleet Defender Adds Visibility and Transparency to Your Fleet Operations
With so many commercial fleets on the road, it is inevitable that incidents will occur from time to time.
When this happens, you want to be prepared with all the information you need to understand the moments before, during, and after an incident so you can best protect your drivers and your business.
With NexTraq Fleet Defender, you will be provided with HD video footage from the road and inside the vehicle. This can go a long way towards helping you gain a comprehensive understanding of what caused the incident.
This video footage, plus the GPS location of the incident, can then be used to help protect your drivers against false accusations.
With NexTraq Fleet Defender, your drivers will have access to a driver upload button that gives them the autonomy to begin recording an event. They can upload video of relevant events that may not have been uploaded automatically for situations including being late on a shift, incidents, etc.
This footage is automatically archived, then made available via the NexTraq Web Portal. The footage can then be used send to your insurance company. Many managers even share incidents of unsafe driving events with drivers for coaching opportunities. This is especially helpful to show them what actions need improvement to sharpen their driving skills.
Get the Fleet Tracking Solutions You Need with NexTraq — a MICHELIN Group Company
By investing in NexTraq Fleet Defender, you can measure, manage, and improve your fleet performance to enhance driver safety, boost visibility, and increase the profitability of your business.
Contact NexTraq today or schedule a demo to learn how NexTraq Fleet Defender uses advanced technology to enhance the capabilities of your fleet tracking system.
[1] https://www.cdc.gov/transportationsafety/distracted_driving/index.html